In Florida we don't have White Christmas, so I'll happily take the White Chicken Chili instead. I'm devoting today's WIAW to one of my favorite cold weather foods…Chili. I found a new recipe that I adapted a little bit. This is a slow cooker recipe…for those of you that don't have one, you need one! Hehe. My Crockpot has saved me so much time and produced excellent recipes.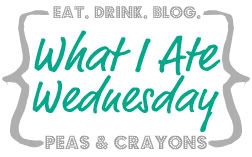 Slow Cooker White Chicken Chili
Makes about 5 servings.
2 15-oz cans cannelini Beans
1 15-oz can Great Northern Beans
1 medium onion, chopped
4 cloves garlic, minced or pressed
1 4-oz can diced green chilies
2 tsp ground cumin
1/2 tsp dried oregano leaves
1 tsp ground cayenne pepper
1/2 tsp chili powder
1/2 tsp salt
1 to 1.25 pounds boneless, skinless chicken breasts
2 1/2 cups chicken broth
Rinse and drain the beans. Place them in a slow cooker. Add the onions, garlic, chilies, spices, and salt, and stir to combine.
Place the chicken breasts over the top, and pour in the chicken broth.
Cover and cook on LOW for 10 hours, or HIGH for 4 hours.
When ready to serve, remove the chicken and shred the meat into bite-sized pieces, using a couple of forks, place back in the slow cooker with the rest of the goodies.
You can serve this with all kinds of stuff…over rice, with chips, with sour cream. My choice was Guacamole and a sprinkle of cheddar.
I gobbled it up in no time…and Jay kept saying "oh yeah". Then I knew it was a hit!
Do you use a slow cooker? Any good chili ideas?