It's WIAW Food Truck edition! Tiffany, Eunice and I were so excited to finally try out the weekly Food Truck Rally at the Seminole Hard Rock in Hollywood. My sis came along too… neither of us can resist the promise of fried foods (sorry in advance for the horrific pics).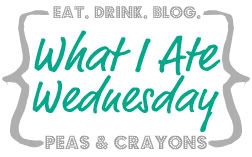 First the bad part, it was POURING rain when we arrived. But the rain means one thing in Florida… nobody leaves their house. More food for us! OH yeah!
One of the first things we got were the Tater Tots from Dim Ssam a go go. They were covered with a siracha infused cheese sauce and chopped up short rib. They were a –freakin-mazing! It was cheesy, spicy, beefy, crispy goodness. I've never had tater tots that perfectly cooked. Plus they came with chopsticks. Chopsticks make everything better.
As we were devouring the tots, Tiffany and Eunice came by with one of the most amazing creations ever… a Red Velvet Cake Milkshake from Sugar Rush. They put real cake INTO the shake! Uh huh, that is right. They said that it was like drinking a slice of red velvet.
Our next stop was Good Stuff Eatery, which we tried to eat at our last Food Truck fiasco. They had Fried Mac & Cheese Balls with Spicy Guava Sauce. Sounded good to me! I'm sad to say this was very disappointing. The sauce was very good, sweet & spicy. But the balls were bad… it tasted kind of like a fried cornmeal dough with some cheese scattered through. It was weird.
Our last stop was another goodie, The Frita Man. Fritas are Cuban style burgers. The meat is kicked up a notch with Cuban touches like cumin and garlic, and it's topped with potato sticks. I got the "Chuck Norris", which was a mini burger with a fried onion, fresh fried potato sticks and a "zesty" sauce (which I'm pretty sure was just honey mustard). It was really good! I love smashing the Frita and hearing all the potato sticks smash. Then you take a bite and it's meaty crispy goodness. I would eat there again for sure.
I LOVE this Food Truck thing! Next time I am definitely going to save room for the Red Velvet Cake Milkshake. What would be your perfect milkshake??