Happy WIAW - sister edition!  My sister, Andrea,  went to a fancy schmancy dinner and offered to do a guest post.  Of course I said yes!  Even though my little sis is a cliantro hater (which she is very passionate about in this review), I hope she keeps writing guest posts for me!  We all know how lazy I can get
Now here is Andi…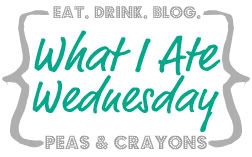 Party on "The Island" at Buccan…A "hit" and a "miss"… I've been dying to try Palm Beach's newest addition to "The Island" (Palm Beach), Buccan, since it opened last January. I've heard only raves about this "progressive American grill". I only try and cross over to "The Island" when necessary, for client meetings or events (I am an event planner), but we wanted to go big & celebrate my boss' 45
th
birthday, so Buccan was the choice.
The "Hit" part:
The ambience was a mix of traditional "Palm Beach" (aka…a lot of rich people) with a clean, "Industrial Chic" type look. It was very inviting and not too stuffy!
We got there around 6pm and went straight for the bar. My coworker's friend happened to be a bartender there so she hooked us up with these awesome Watermelon martinis…not too chunky, not too sweet, and plenty of vodka! A perfect way to start the evening!
The "Miss" part (aka…most of the food):
Buccan is known for it's small plates or "tapas", so we all decided to order different things from the menu and share.
Tuna Poke: raw tuna, coconut, pineapple, avocado, cilantro (grotesque!!!) and gingered carrot. Unfortunately for me, the cilantro and pineapple overpowered the flavor of the tuna.
PEI Mussels with curry & coconut milk: The best part about this dish: the broth. I soaked several pieces of bread in it.  But the mussels were somewhat "fishy" and occasionally "crunchy". I think someone in the kitchen forgot to rinse the sand off.
Short Rib Empanadas: Soooo many people told me I HAD to try at least one. Well, they were WRONG!!!! The only good thing about this was the empanada dough. The meat was tender, but extremely bland and lacked any seasoning. And of course, more cilantro!!! By the way, if you haven't realized yet…I HATE cilantro! Haha
Meatball Spring Rolls: Creative concept…and the melty cheese and pesto sauce were very good. However, the meatballs contained an excessive amount of breadcrumbs and not enough meat.
Spinach & Tomato Gnocchi: The best thing I put into my mouth… The flavors were very rich and balanced each other very well! The spinach/cheese combo was oozing out of each gnocchi and each little bite of crispy prosciutto was the perfect complement! I wish I had ordered the larger portion!!!
All in all it was a very fun evening with friends and coworkers! The drinks were a flowing and the birthday girl had a great time! Unfortunately, I will not be coming back here again. With prices being a bit high for my wallet (standard in Palm Beach) and food "hit or miss", there's no reason for me to put on uncomfortable high heels to dine with the rich and fabulous of Palm Beach.