For this week's WIAW, I wanted to review a place I went to this holiday weekend that I was dying to try forevah… D'Angelo. It's a "Pizza, Tapas, and Wine Bar", Italian style of course. They have a sharing type menu with smaller portions, and basically everything on the menu sounded mouthwatering.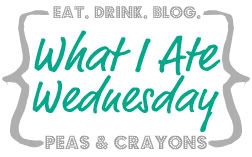 Jay & I got there around 3:00 on Monday, so the place was pretty quiet. We got a nice table inside since it was friggin HOT out. It was 5:00 somewhere so we ordered a nice bottle of Chianti.
We started out with bruschetta, this one had nice chunks of fresh mozzarella. It was the perfect way to start the meal, bright, light & flavorful.
Next up was the sausage with broccoli rabe. Jay loves his sausage so this was a must for our meal. The orange stuff is a yummy chili-infused olive oil the serve at each table. The broccoli rabe was cooked perfectly, and not bitter like I've usually found. The sausage was good, but nothing out of this world.
We ordered our next course because the server said it was one of his favorites…Crispy Polenta. At first I was hesitant because come on…it's just polenta. But WOW, I couldn't believe how good it was. The outside was slightly crisp with the creamiest polenta I have ever had in my life. The cheese slightly melted on top was perfect with it.
The last course was my pick…the Fico Pizza. It was topped with stracchino cheese and figs. My mouth can not stay away from a fig pizza. I don't know why, but it's an uncontrollable urge. But I was just slightly disappointed, because it was a little too figgy. It would have been perfect if they took off half the figs, cut them in half, then put them back on. The cheese and crust were perfection.
Because we are gluttons for punishment, we also ordered a cannoli even though we were busting out of our shorts at this time. It was one of the best cannolis ever. It had a super crispy shell, and a perfectly creamy filling. Jay (the cannoli connoisseur of the family) even said they were incredible.
We will definitely be going back to D'Angelo's. The food was awesome, the service was flawless, and they are way more menu items I want to sink my teeth into.
What's the best dessert you've ever had at a restaurant?