Happy WIAW! For the most part my eats have been pretty standard…but these two concoctions were the highlights of my day yesterday…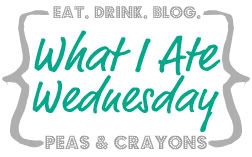 I started out yesterday morning with a smoothie that I was scrambling to make due to the fact that I was already late for work. After I put all this stuff in my blender… I had a moment of "What the F did I just do?". But, I have to say it was the BEST Smoothie I have ever concocted! You can taste all the ingredients and the combo is outrageously good. I highly advise you to make this ASAP!
Crazy Monkey Smoothie
1 small banana (chopped & frozen)
1 cup Unsweetened Vanilla Almond Breeze
2 tsp instant coffee
1 ½ tbsp PB2
1 scoop Sunwarrior Vanilla Protein Powder
- Blend & Enjoy!

I was on my own for dinner…so that means time for my handy dandy tuna. I was contemplating all the ways I could make it, then I realized I had my magical elixir in the fridge…Goddess Dressing. Throw in some veggies and I got a nice and light meal.
I got some Romaine leaves ready too for my method of mouth transportation. I'm trying to cut down on carbs at least a few nights a week. But this would be great as a wrap or sandwich!
Goddess Tuna Salad (for one)
1 packet Tuna (2.6 oz)
1 ½ tbsp Annie's Lite Goddess Dressing
1 ½ tbsp finely chopped onion
¼ cup chopped tomato
¼ cup reduced fat feta
A few dashed Frank's Red Hot (optional)
3 Romaine leaves
Drain & Rinse Tuna
In bowl mix up tuna, tomatoes, onion, dressing, and Red Hot
Evenly distribute on lettuce leaves and sprinkle the feta on top
Shove in to mouth and enjoy!
Do you have a favorite smoothie?
Do you like Tuna (I used to hate it)? What's your fave thing to add to it?